Post by Lαrα on Jul 2, 2014 1:17:30 GMT -8
Its very easy to forget about posture and its affects...Its so very important to have a correctly positioned seat and backrest and to sit correctly within your chair.

I have been reading several articles on this and it seems that so much emphasis is put on the neurological effects of Spinal Cord Injury but not enough importance is focused on this.
Musculoskeletal pain should also given attention too and incorrect seating posture can play a big factor in this. The skeleton, technically should be aligned as correctly as possible..Heck when you think about this...the spine is such a vital structure of the skeleton and stability and yet it is damaged and tampered with.
Posture and alignement is crucial!

It seems that many rehab places are still providing patients with these chairs that have seats that are parallel to the floor which is incorrect.

Jennifer Hastings was a physiotherapist for 13 years, she specialised in SCI rehabilitation and she also established the wheelchair seating clinics at both the VA and Harborview Medical Centers.
She has lectured and published widely on the subject and is recognized as a national expert.

She explains that many people with SCI (especially higher level injuries) slump back in their seat and sit with their hips forward. This offers them stability but she goes on to say that this way of seating will inevitably begin to be a cause of pain over a period of time.

One way to increase stability in a wheelchair is to recline the backrest or tilt the chair in space. While this allows the lower back to stay against the seat back, it also thrusts the neck forward, which quickly becomes fatiguing and painful for the neck muscles.

Whether standing or sitting, proper postural alignment places the ears over the shoulders over the hips while maintaining normal spinal curves. This alignment is optimal because "it takes the least muscular work to maintain," Hastings explained. Less muscular work means less fatigue and pain and more functionality.

I can see from this pic below that sitting this way must cause neck pain for a start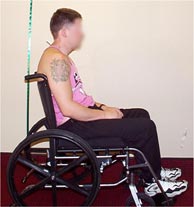 Hastings believes that maintaining and supporting these natural curves allows for stability and proper alignment in an upright position. She achieves this by keeping the back rest angle at (or as close as possible to) 90 degree to the floor, but lowering the backrest height to just below the thoracic curve; making sure the bottom of the backrest contacts the lumbar region; and tipping the seat up in front, resulting in a seat angle that's slightly more acute than 90 degree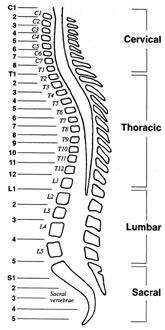 As seen in the diagram above: The normal spine curves out (toward the back) slightly in the thoracic (middle back) region and curves inward slightly in both the cervical and lumbar areas.

The images below shows proper ears-over-shoulders-over-hips alignment is achieved in this wheelchair configuration.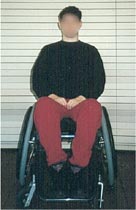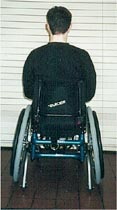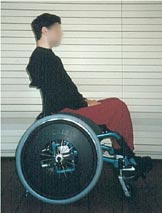 Frequently the lowered backrest height meets with resistance from other clinicians. "I've had many arguments with doctors who say, 'You can't have a backrest that low-they're jelly above that!'" Hastings recounted. "But it's jelly that I want to align this way to allow the person to use the strength they have." In case after case, she has found that maintaining a normal thoracic curve and providing lumbar support do provide stability without compromising alignment.

In the article Shelly goes on to explain also how someone looks so much taller and visibly much better when sitting in correct alignement. The same principle applies for power chair users.
I know from personal experience i am always conscious to 'sit tall' and even when im in a chair. With a very numb butt that isnt evenly distributed with altered sensation i would have a tendency to sit more to one side which also would cause pain issues over time.
If you would like to read more click the
Source
Related Threads that you may find interesting:
Seating and Posture Issues

Taking Care of your Shoulders