Post by Lαrα on Apr 28, 2014 1:40:48 GMT -8
The heel of the foot is at increased risk of pressure ulcers due to the lack of padding over the bony back of the heel area. Periods of bedrest can increase the risk and also pressure from shoes.

Heel Pressure Ulcers from Bedrest
Some people with Spinal Cord Injury may at some point need periods of bed rest due to other issues. Shearing can then become a major risk factor for the patient. Shearing can occur especially as the heel of the foot is in constant contact with the bed sheet...as the individual can easily slide down the bed at times this can cause the shearing.
Reduced blood flow to the area, loss of sensation and restricted movement in the lower limbs are all contributing factors.

Below is a heel precaution guide for carers and nursing staff. Its so important that as a person with a spinal cord injury you become knowledgeable and active in your own care. If you know you have higher risk of associated health issues and you know what care and management you need then you have the responsibility to your own self to ensure it is being followed.




Shoes and Pressure Ulcers


I know that for many people with Spinal Cord Injury finding shoes that are comfortable and fit correctly is sometimes difficult. Many suffer with swelling of the feet so then end up buying a shoe size up.
This can in itself cause additional problems especially when the swelling can vary at times of the day.

If your mobility is restricted to a wheelchair and you are finding you are at risk from heel ulcers then you could ask a cobbler to cut out the backs maybe? It still allows you to wear fashionable shoes/trainers without the risk of rubbing.
The cobbler can adapt the shoes so that they do not fall off like most open back shoes would if a spasm is experienced. Take a read of this article which explains how this can be done Modify the heel of the shoe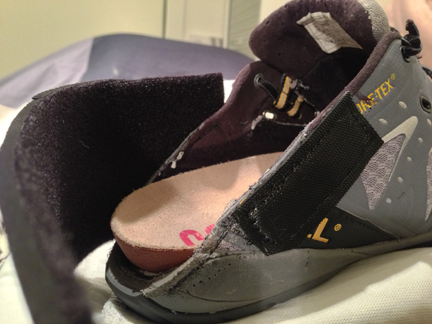 To prevent rubbing and ulcers always buy correct fitting shoes.
Dont wear socks that are too tight around the ankle as this will affect the circulation to your feet.
Have good laces, buckles or Velcro® fastening to prevent movement and rubbing of feet within the shoes.
Inspect your heels regularly and be sure to look out for an early sign of an ulcer developing..red or dark marks especially.


If you are a walker the same considerations as above apply except the shoe heel moderation. The last thing you want is to be losing your shoes mid gait


If you are finding it difficult to find shoes to fit in your own size that are comfortable and allow for some swelling then its worth going to companies who specialise in this kind of problem.
I will soon be adding another thread to the forum which is about foot care and i am aiming to talk more about shoe fitting and SCI in more detail.

Sources: here and here